Alicia Löffler steps down as head of office for innovation and new ventures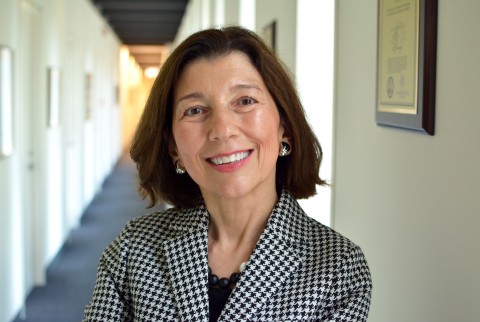 Alicia Löffler, Executive Director of the Office of Innovation and New Ventures (INVO), will retire at the end of the Fall 2022 term after 12 years at INVO and more than 20 years at Northwestern University.
As founding director of INVO, Löffler helped create several important North West programs, including The Garage, the Querrey InQbation Lab, the N.XT Fund and Lakeside. Löffler has played a central role in the creation of entrepreneurial training programs such as Chicago Innovation Mentors (CIM) and INVOForward.
She is also the University's Associate Vice President for Innovation and New Ventures, and Associate Vice President for Research.
"I am extremely grateful that Northwestern has given me a sandbox in which to play and create new initiatives at the intersection of science, innovation and entrepreneurship," Löffler said. "When I started at INVO, I said my job was to put myself out of work and support the creation of a self-sustaining ecosystem based on a strong culture. Now is the time for me to move on to my next adventure .
The search for Löffler's successor will begin soon, with the process being guided by a steering group made up of senior university leaders, including Vice President Kathleen Hagerty, Executive Vice President Craig Johnson, Vice President for Research Milan Mrksich and the vice-rector for administration and chief of staff. Jacques Julia. They will be supported by the research firm Isaacson, Miller.
Hagerty said Löffler had a profound impact on many people at Northwestern.
"Alicia touched the lives of students, faculty and staff across campus," Hagerty said. "Her unwavering belief that innovation not only supports, but is essential to the University's mission, has borne fruit in the form of programs and initiatives such as INVO, The Garage and the Center for Biotechnology. Alicia has changed the way we support our own innovators and entrepreneurs.
Löffler oversees INVO's strategy and operations, including education marketing and new ventures. But Löffler's legacy extends beyond INVO and touches several schools.
Prior to forming the INVO team, Löffler co-founded the nation's first professional Master of Science in biotechnology at Northwestern in 1992. As the biotechnology industry was gaining a foothold, this program trained scientists to join the industry. The program moved in 2001 to the Kellogg School of Management, where Löffler founded and directed the Center for Biotechnology, which prepares MBA students to build science-driven startups. While at Kellogg, she also co-founded the NUVention medical class.
In 2010, Löffler joined the administration to lead the development of a new office: Innovation and New Ventures, designed to support the University's innovation and entrepreneurship ecosystem and accelerate the translation of student inventions and teachers to the public.
Under Löffler's leadership, innovation became a more important part of the University's mission. Among the highlights:
The number of Northwest-based startups more than quadrupled during Löffler's tenure with INVO, to 123.
Since 2010, Northwestern has seen a 63% increase in inventions, with INVO facilitating nearly 2,600 inventions.
INVO has also supported a substantial increase in patents filed and granted since 2010, with a 152% increase in patents filed and a 279% increase in patents granted.
"Throughout her tenure in the Northwest, Alicia has made significant and varied contributions to our innovation ecosystem," said Mrksich, Vice President for Research. "She and the INVO team understand the beneficial societal impact that comes from translating our research into products and businesses that transform people's lives for the better. His efforts have also been instrumental in creating an environment that cultivates entrepreneurial leadership among our faculty as well as our students.
Löffler has shaped Northwestern in a way that benefits current and future students, faculty, and staff. The Garage, Northwestern's student startup community, has supported more than 1,000 startups since Löffler oversaw its creation in 2015.
Löffler said The Garage helped shift the University's culture in an entrepreneurial and innovative direction by investing in "billion-dollar people, not billion-dollar companies."
"I'm proud of the legacy Alicia will leave behind," said Peter Barris '74, Chairman of Northwestern's Board of Directors and inaugural Chairman of the Innovation and Entrepreneurship Committee. from 2011 to 2016. position it occupies today to position itself as a leader in entrepreneurship and innovation.
Additionally, she has led partnerships with Deerfield Management and Lakeside, accelerators to develop therapeutics.
Aside from his passion for innovation and biotechnology, Löffler has expanded the opportunities for success for Northwestern individuals. She continually created new entrepreneurial training programs, including marketing clinics; the Device Development Center; CIM, a team-mentoring program co-founded by Löffler with the University of Chicago and the University of Illinois-Chicago that pairs innovative faculty with teams of experienced entrepreneurs, executives, and subject matter experts; INVOReach, which focuses on developing resources that enhance the diversity of inventors and entrepreneurship at Northwestern; and INVOForward, a customer discovery bootcamp for entrepreneurial faculties and startups in the Northwest.
"Alicia's work at INVO has helped Northwestern innovators and entrepreneurs bring their ideas to life," said Kimberly K. Querrey ('22, '23 P), Chair of the Innovation and Entrepreneurship Committee of Northwestern's Board of Directors. "Her unparalleled enthusiasm and incredible vision allowed her to have an immeasurable impact on every initiative she touched, putting Northwestern on the map as a hub for innovation."
Löffler was named one of the Tech 100 Stars by Crain's Chicago Business and received the I-Street "Women in Black" Award and the 2011 Innovator Award from the Chicago Chapter of the Association for Women in Science (AWIS) .