Hungary's hardliner leader declares victory in election as war rages in neighboring Ukraine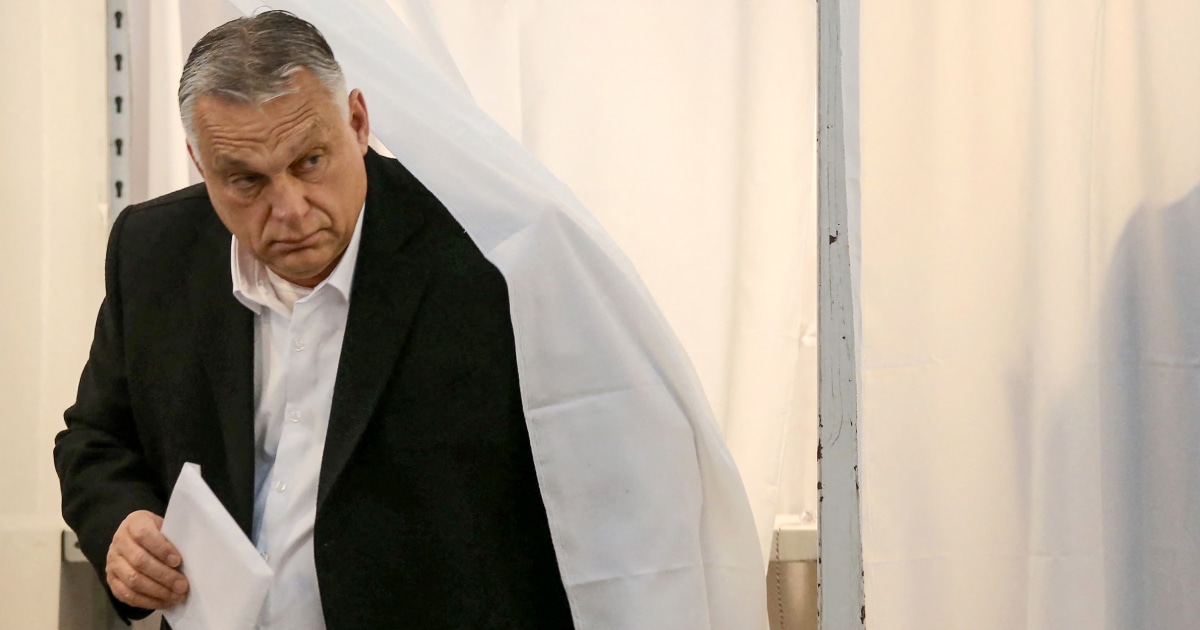 BUDAPEST, Hungary — Viktor Orbán claimed victory in Hungary's general election on Sunday, as his Fidesz party appears on track to give the prime minister a fourth consecutive term amid a war raging in neighboring Ukraine.
"We won because we have a common interest and it's called Hungary," Orbán said in a speech in front of the Danube.
With 43% of the vote, Orbán's Fidesz-led coalition had won 57% of the vote while the opposition United for Hungary coalition had 31%, according to the National Electoral Office.
A victory would allow Orbán to continue to be a thorn in the European Union and NATO alliances in times of international crisis, as he tries to balance Hungary's Western partnerships with his personal and economic relations. close with Russian President Vladimir Putin. And that would give Orbán another four-year term to continue eroding Hungary's weakening democratic standards.
The election was expected to be the most contested race since Orbán took power in 2010, after six opposition parties – ranging from socialists to the former far-right – unexpectedly put aside their ideological differences to unite behind a common candidate for the post of Prime Minister, Peter Márki-Zay.
Márki-Zay, the 49-year-old Catholic father of seven, was seen as a compelling conservative alternative to Orbán. After being elected mayor in a surprise victory in 2018 of the small southern town of Hódmezővásárhely, a Fidesz stronghold, Márki-Zay looked set to lose his own neighborhood on Sunday.
Orbán, who was embraced by influential American conservatives such as Tucker Carlson for championing culture war issues, began his re-election campaign by stoking anti-immigrant sentiments and running against "LGBT ideology."
But when the Russian-Ukrainian conflict erupted, Orbán reframed the election as a choice between peace, which he said could only be won by his Fidesz party, or war, which he said Hungary would be drawn into. if the opposition won.
The opposition had tried to make Orbán pay a political price for his intimate relationship with Putin, but his tight control over the news media made it difficult to get their message across.
In the days leading up to the election, Márki-Zay lamented that Orbán had managed to use "his fake news machine" to convince Hungarians that the opposition would "send their children to Ukraine to die" if they won.
Orbán's warnings seemed effective. András Nemenyi, a 63-year-old voter, said he rushed to vote for Orbán moments before polls closed on Sunday, largely because of the prime minister's handling of the war.
"Only in peace can you raise your children properly," Nemenyi said as he left a polling station in central Budapest with his 6-year-old son.
Márki-Zay accused Fidesz of committing electoral fraud Thursday after a local media reported who finished postal ballots filled with voices for the opposition had been burned and dumped in neighboring Romania, home to a large Hungarian ethnic community who has the right to participate in the elections.
Hungarian election officials reported the alleged case of election fraud to the police, and Romanian police also opened an investigation.
Hungary's democratic backsliding under Orbán prompted a number of international organizations to send teams to independently monitor the elections. The Organization for Security and Cooperation in Europe sent a complete observation mission in Hungary, it is only the second time that it has done so in a country of the European Union.
liberty housea US-based rights group, released a report in 2020 stating that Hungary could no longer be considered a democracy due to Orbán's continued efforts to undermine democratic institutions, including his takeover of independent media organizations and the adoption of a emergency law implemented when Covid hit that allows the government to rule by decree indefinitely.
Orbán and his Fidesz party face a number of significant challenges. Thousands of Ukrainian refugees have arrived in the country since the start of the war, putting a strain on Hungary's already overstretched social services.
Although the war was a priority for many Hungarians ahead of the election, the country is also grappling with soaring inflation and falling wages. And the EU threatened to withhold funds on which Hungary depends heavily due to Orbán's assaults on democratic norms.
Orbán first ruled in 1998-2002 before returning to power in 2010.
Fidesz won a two-thirds majority in 2010 and 2014. They lost this "supermajority" in 2015 before regaining it in 2018.