Numbers down but enthusiasm up with the return of Leader Wedding Fair | Local News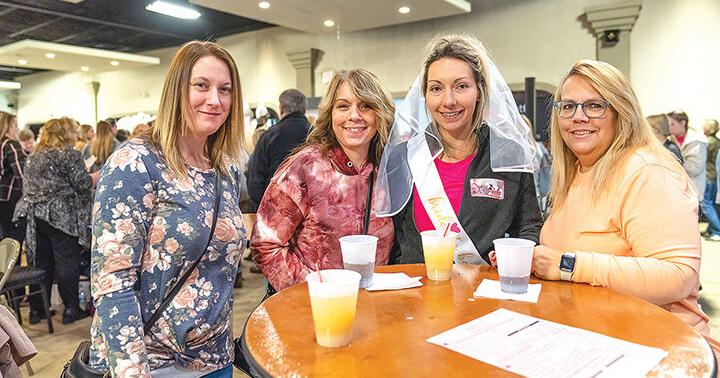 The crowd was smaller than in previous years, but those who attended the Leaders' first wedding show in person since the pandemic were excited for its return on Sunday, March 6.
"I think it's great that they're hosting an event like this," said bride-to-be Abigail Sharp of Festus, visiting the fair with her mother, Jamie Sharp. "We just have an idea of ​​what's available, what others are doing. It's nice."
About 450 visitors turned up for the fair, which was held at the Quality Inn in Festus and was postponed to its original date of February 6 due to coronavirus concerns.
"It was a tough decision to make because of all the years of putting this event together in late January or early February," said Peggy Scott, associate editor of Leader. "But it felt like the right decision. It was safer for vendors and guests. People seemed happy to be outside and happy to be planning in-person wedding events again.
It was the 28th annual bridal show sponsored by Leader Publications and featured 40 vendors offering goods and services for weddings and other special occasions. Many vendors offered gifts and designs for prizes.
Admission fees raised just over $1,000 for Living Life on 2 Wheels, a nonprofit that provides bikes to schools for physical education classes.
Ticket sales were staggered, with early entry $3 and $5 at the door.
"The online sales went well and the check-in process was very seamless," Scott said. "It's something we're going to continue, definitely."
Also new is the cash bar, offering mimosas, beer, wine and soft drinks, and the small bistro tables scattered nearby.
"The bar was popular," Scott said. "The bistro tables have worked really well too, allowing people to rest and regroup, compare notes and visit a bit."
The event was featured on social media; check out a live stream on the Leader Publications Facebook page or review event highlights on Instagram at
@monleaderpaper.
Perryville native Megan Sutterer's name has been raffled off to win the grand prize of a three-night, all-inclusive honeymoon at the luxury adults-only Secrets Royal Beach Resort in Punta Cana, Dominican Republic, with courtesy of A-Plus Travel to Imperial
Living Life on 2 Wheels volunteers were on hand to help collect admission fees and to chat with visitors about the group's mission and upcoming activities. The group has raised more than $75,000 to provide bicycles, helmets and storage racks to elementary schools across the county, with more planned for the coming months. They are funded by donations and a grant from the Jefferson Foundation.
More information about the group can be found at livinglifeon2wheels.com.
With this year's proceeds, the Leader Wedding Fair has raised a total of $46,653 over the years for various local charities.
The next event for Leader Publications is the De Soto Senior Expo, scheduled for Wednesday, April 20, at Knights of Columbus Hall on the highway. E. A special section will be published in the Thursday, April 14 issue of The Grand Times, the newspaper's magazine for older people.
For more information about the expo or other upcoming events, email [email protected] or call 636-931-7560.